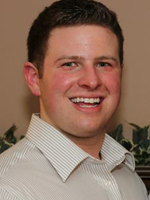 Kyle Luithly
As one of the youngest Real Estate Investor Association™ members, Kyle is a numbers guy (B.S. in Mathematics and Theoretical Physics) and that helps him analyze deals. His goal is to own ten single family rentals and have a autonomous business.
Indiana college student and investor Kyle Luithly is crushing it in real estate by working smart and playing to his strengths. But as busy as he is Kyle still took time for this showcase. Check out what Kyle does can provide ideas, inspiration and education to grow personally and business.
In this Showcase meet Kyle Luithly and:

how you can help Kyle find rentals
hear his most important investing and business lessons
see he's taking action to be the best with awesome mentors
get all the scoop on what's new with Kyle Luithly's business
his idea of creating residual income that will stand the test of time
Listening to this Showcase is a great way to plug in to Kyle Luithly's new business opportunities and see how you could partner with his exciting plans.

Connect with Kyle Luithly (and see pics of his guitars) :


Back to the Showcase index