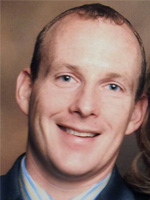 Michael Cordray
R.E.I. Association™ member Michael Cordray is smart, organized and a systems guy who believes in working on your business not in it. Because investors don't use hammers and nails but instead leverage our know-how, investor community and resources to build businesses and a bright future.
Michael is a certified project manager and comes from a collegiate background in engineering and analyzing numbers. And hes willing to put his strengths to use with and for other association members in order to forge new partnerships. He's ready, willing able to help find deals and do joint ventures.
Michael is currently:

buying in Indiana
analyzing property nationwide, and
has his eyes on the emerging markets.
and why he has a laser focus on multi-family property investments.
Michael also talks about the criteria for property he want to buy nationwide.
Have a property (or a hundred) for him to look at?
Contact him through his website or in our Community forum.
The R.E.I. Association™ provides these showcases for  insight and inspiration in order for you to leap-frog over others who are stumbling around in isolation forced to figure it all out by themselves.  By pooling our collective experience we as a community all get better faster.
Log in to meet Michael and hear and download the Insider Interview™ and get the showcase notes he shares about his big takeaways from a week-long investor cruise

Back to the Showcase index