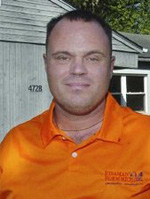 Paul Eisaman
What's the secret sauce for a young property manager/investor acquiring over 700 units, building 3 well oiled successful companies and organizing and managing a staff of 15?
Three things:
1. Focus
2. Kaizen, and
3. The R.E.I. Association™
Indiana entrepreneur Paul Eisaman is crushing it in real estate by working smart and playing to his strengths. But as busy as he is Paul still took time for this showcase. And hearing to what Paul does can provide ideas, inspiration and education to grow personally and business.
It's what what makes the Real Estate Investor Association™ such a remarkable place to grow and show.
Because when you create a clear compelling high resolution future picture and then apply a singular laser focus on achieving that vision along with Kaizen, the Japanese philosophy of constant improvement, you can achieve remarkable results in a short period of time. Proof of just that is the subject of this R.E.I. Association™ Community Showcase.
In this showcase Paul provides great ideas and provocative tips on:

building and maintaining a good work environment
compelling examples of providing safe, affordable housing
solid investing from education with the R.E.I. Association™
Along with the high quality actionable insights into building his "well oiled machine", Paul also talks about the buy property he wants to buy. Have a property (or a hundred) for him to look at? Contact him through our Community forum.
Log in to:
meet Paul
see his new office
get the Showcase notes and
hear and download the Insider Interview™