They
are

out to get you !
Plaintiff Attorneys, Overzealous IRS &  Government Agencies, Ex–Spouses…
and ANYONE who has less than
YOU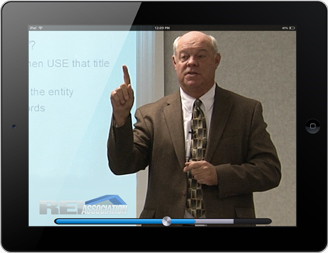 Your Odds of Being Sued Are Greater Than Ever
Every year thousands of tenants are successful in law suits against naive landlords who didn't follow due process of the law.
And most juries are made up mostly of tenants who are jealous that they don't own a house and you have several; now it's pay–back time.
This is their chance to get even with every landlord who ever hit them with a late rent charge or made them get rid of that pet. Rehabbers also face personal and business liability and needlessly lose fortunes to contractors, consumers and government agencies because you are unaware of your protection rights.
You might as well just hand over your checkbook and the title to one of your houses – unless you know protection strategies and entity selection.
You Can't Afford To Invest Without Real Estate Asset Protection
Are your assets really safe from lawsuits, creditors, and tenants? Is your company the correct entity type and is it strong enough to withstand a sharp pierce of your corporate veil?
Are Your a Tough Target?
Many are at risk of personal liability by keeping your flips and rental units in your personal name, or in the name of your spouse, a dba or your living trust. In the event of a personal judgment against you, your spouse, co-owners or partners, your personal assets are at risk of loss including:

your rental building,
your $1,000,000 IRA,
your $450,000 home,
your $145,000 bank account,
your CD's, brokerage accounts, mutual funds and
other your toys: boat, jet skis, and yes, even your Harley
Tough Targets Legally Reduce Their Liability, Shield and Protect Their Assets From Lawsuits and have Peace of Mind
Strategies of Veteran Attorney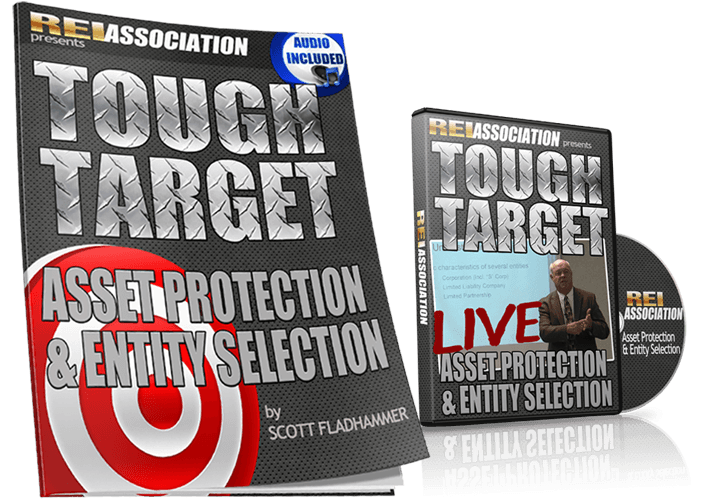 It's estimated that 50-60,000 lawsuits are filed in the United States every day!
With this training you can learn you how to protect yourself, your business and your family from lawsuits, taxes, and other financial disasters with bulletproof real estate asset protection.
ARM YOURSELF TO WIN BATTLES OR AVOID THEM COMPLETELY:
1. INSTANT DOWNLOAD of the 1 Hour LIVE Main Event audio and video on the subject of Real Estate Asset Protection and Entity Selection by a seasoned attorney covering:

How many property to put in one basket entity
What type of company entity is best for you
Steps to set up joint venture/partnerships
Personal & Business Asset Protection
How you can limit your risk
and more!
2.
INSTANT DOWNLOAD:
Tough Target
ebook by REI Association™ President Scott FladHamer to shift the odds solidly in your favor containing:
The BIG 3 real estate entities & their characteristics explained
Cliff notes to follow the REI LIVE Main Event™ training
Over a 100 commonly missed tax deductions
Insurance Tips for landlords & Rehabbers
FORMAT: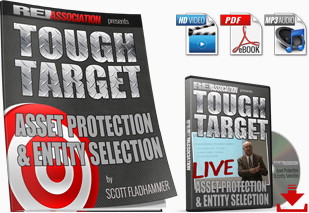 HD Video
Audio MP3 Download
Tough Target eBook Download
LENGTH:
67 Minutes
LEVEL:
Intermediate to Advanced
LOG IN for
REAL ESTATE ASSET PROTECTION & ENTITIES EXPLAINED
As if you need
MORE REASONS...
Mainstream publications are warning people about the high risk of losing assets by lawsuits and how important it is to protect yourself:
Newsweek Magazine reports,
The average amounts paid to plaintiffs in personal–injury cases has risen dramatically"
The Wall Street Journal  acknowledges:
Something as simple as paying a college kid to clean your gutters or giving youngsters a few bucks to shovel the driveway could lead to a serious lawsuit."
Forbes Magazine:
with trial lawyers running riot, insurance may not be enough."
You Don't Want to be on this list of
LUDICROUS LAWSUITS
These cases are not random occurrences, these types of lawsuits happen every day in every state of our country and are rapidly increasing (for the untrained).
o A building owner was held vicariously liable with a demo-sub under the 'particular risk doctrine' who failed to turn off the electric, causing death to the electric-sub worker. The jury awarded $2,884,557.
o An apartment builder owner (husband and wife) went bankrupt to allegedly avoid execution of a judgment for sexual battery. A new fraudulent conveyance of $5,000,000 of real property (to wife) action was then sought against defendants (landlord-owners).
o Owner of apartment building failed to clean and repair loose tiles caused by a leak and accumulation in the kitchen from the above unit which landlord was aware. Plaintiff's wheelchair caught the edge of a loose tile causing him to fall off the chair causing soft tissue injuries. Binding arbitration awarded $893,550 on a $1,000,000 policy.
o The apartment management company and the employer-roofer were held jointly and severally liable for $3,279,000 to a roofer-employee who slipped and burned himself with hot tar. Since, it was held, that the roofer did not have valid workers compensation insurance and a valid contractor's license both were liable at law, precluding plaintiff from contributory negligence
o Landlords insurance coverage was denied (in bad faith) in a wrongful death (negligent security) lawsuit brought by tenant's estate for the murder of the tenant by an unknown assailant.
o Landlords may be liable for lead paint based injuries even if they do not have knowledge of the hazard!
"Just as a motorist is presumed to know the laws regulating motor vehicles, the court reasoned, so a landlord is presumed to know the requirements of the local housing code pertaining to the habitability of leased premises. Landlords need not inspect the premises before leasing, the court said, but because of the implied representation of habitability that accompanies the making of the lease, they fail to do so at their peril."
o Landlords! Punitive damages can be awarded even with no compensatory or nominal damages in race discrimination cases, under the Fair Housing Act. Owner (landlords) lied to prospective tenants about the availability of apartment, while waiting for the 'right tenant'.
o The general contractor and the worker's employer were sued along with the concrete-sub and safety rebar cap supplier for injuries to a negligent iron-worker who fell some 40 feet impaling himself on vertical rebar with only 8' rated rebar safety caps. The jury awarded $1,285,000.
o $1.08 million in Delaware when the landlord failed to fix a leaky faucet and mold grew; even though the tenant had not reported the problem to the landlord.
Lawsuits are Common Threat to Your Financial Well–being
Imagine a thug sticking a .357 magnum up to your throat and demanding you turn over your wallet, credit cards, jewelry, and keys to your luxury car. How do you feel?
Scared out of your mind?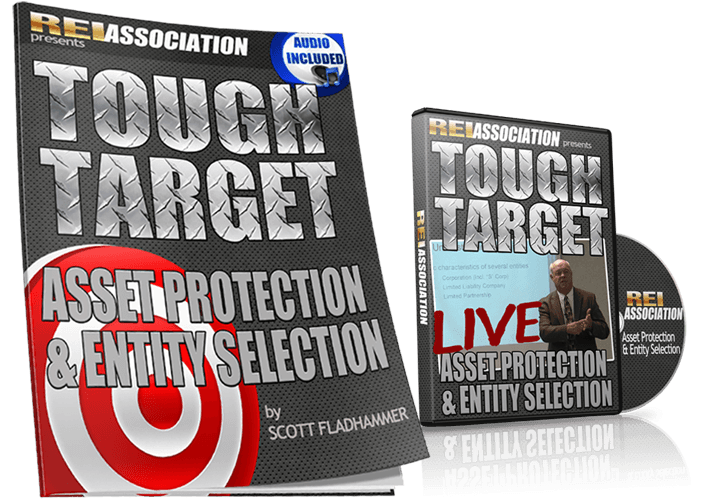 Vulnerable?
Violated?
You will feel exactly the same way (and maybe worse) when you are hit by a lawsuit and you know you haven't done anything wrong. And the lawyers have their targets on Business owners and Real Estate Investors.
SOLUTION
Learn the real estate asset protection strategies you need protect yourself from being a target for the "bloodsuckers" and "ambulance chasers."
With impenetrable walls of protection around you, lawyers and greedy plaintiffs won't be able to touch you or your assets!
Ask a Hammer what You Need & You'll Get Nailed
Your CPA and insurance will usually say, all you need is more insurance! But the painful truth is insurance does not cover all types of lawsuits, creditors and potential liability. What happens if your insurance company denies your claim for legal defense and indemnity? And with the growing judgements awards, rulings can exceed what we can expect to pay in insurance premiums.
'Actually lowering the cost of insurance would be accomplished by such things as making it harder for lawyers to win frivolous lawsuits against insurance companies.' – Thomas Sowell
Get one of REI Association™  president Scott FladHamer's favorite books by visionary Thomas Sowell called Basic Economics by clicking here
MEET THE
PRESENTER
R.E.I. Association™ featured trainer, Max Myers, was admitted to practice before the state courts of Indiana and the Northern District and Southern District of Indiana Federal Courts in Indiana in 1974.
He is one of the few practicing attorneys who read and provided legal opinions on abstracts of title before the advent of title insurance.
Max's expertise not only includes real estate, but he has formed and continues to represent hundreds of limited liability entities, including for profit, not for profit and charitable 501(C)(3) entities.
In addition to corporate and real estate law, Mr. Myers has a great deal of experience in collection law and presently sits as the Chair of the Collection Section of the Allen County Bar Association.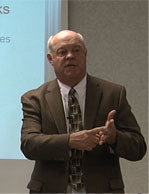 He has created, organized and been legal adviser to or sat upon the Board of Directors for five not-for-profit charitable entities. He spent 25 years as the Post advisor for the Explorer Law Post sponsored by the area Boy Scouts and is the recipient of the James West Award from that organization. Max is also a member of the Elder Law and Probate Sections of the Indiana State Bar Association as well as a 36 year member of the Allen County Bar Association.