Skillful Investor Shapes Numbers into Winner
for huge back-end payday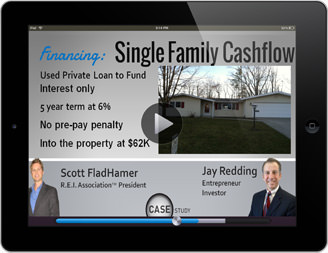 He who has the most options wins
So many many investors walk right past great opportunities every day. We need to remember: we do not find great deals… we make them.
Crafting great deals involves some intelligent thinking and knowledge of various financing options available to all us, also known as creative real estate investing.
In this Case Study we take a very detailed look at a real estate rehab and seller financing transaction. Under the microscope is long-time R.E.I. Association™ member Jay Redding, a skillful real estate investor who shows his techniques for creative number crunching and seller-financing.
As we walk through this deal step-by-step you'll learn how to turn a seemingly 'no go' into a great deal by creatively re-running the numbers.
CASE STUDY
DETAILS:
Lease purchase profit system EXPLAINED
What to look for: Screening and Inspections
How to use private lenders to fund your deals
Multiple options for profits to sell houses fast
Broker & Credit Counselor system to ensure back-end
FORMAT:
Slide Guide Download
Audio MP3 Download
Video Download
LENGTH:
40 Minutes
LEVEL:
Beginner to advanced
Pay Attention or Pay Dearly

GIVE YOURSELF AN
UNFAIR ADVANTAGE
Get access to every Real Estate & Business Case Study when you invest in a National Real Estate Investor Association™ membership.
Judge for yourself if the (ridiculously) low membership fee is worth the incredible training, community and resources
you see here