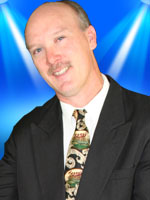 Tony Johnson
R.E.I. Association™ member Tony Johnson is someone I have joint ventured with on numerous real estate deals (the last one cleared us $7ok profit). Tony is an excellent investor, negotiator and rehabber.
Tony also has a super keen eye for unearthing and maximizing the hidden potential profits in real estate.
So it's no surprise that Tony, and his real estate business, are doing phenomenally well even in a 'bad' market. And that's one reason Tony and I will be putting our heads together to deliver our systems and strategic profit methods in a 'How To' course so others can learn how to rehab and flip houses fast for big profits.
In Tony Johnson's Showcase read:

how you can partner with Tony
get the scoop on what's new with his business.
the most important lesson he learned for financial freedom
meet Tony Johnson (one-time largest home builder in Fort Wayne)
Log In to Get Plugged In:
(Non members click here)