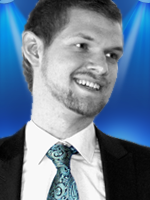 Trent Grable
Currently working as a real estate broker, Trent Grable is also the Chief Consultant at Lucky Duck Investments: a company he created to help advise people on their life goals and how to maximize their finances and investments in income properties and businesses.
It's movers-n-shakers like Trent that makes the Real Estate Investor Association™ such a remarkable place to grow and show.
In this Showcase meet Trent and:

how he got his killer website
where you can partner with him on some investing
hear how this "knowledge glutton" is killing it in real estate
how he's developing awesome customer attraction (that you could too)
and much more!
Listening to this Showcase is a great way to plug in to Trent Grable's new business opportunities and how you might be able to partner with him.
Log in to learn more and connect with Trent:
(Non members click here )

Back to the Showcase index